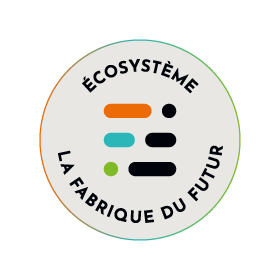 The Fabrique du Futur & Co. is a company created in 2018. It is the "Do Tank" pillar of the global FDF system. The mission of the Fabrique du Futur is to contribute to the creation of desirable futures. To achieve its mission, it acts as a catalyst for innovative ecosystems.
The Fabrique du Futur is based on a simple idea: innovation should not only be technological but also responsible, sustainable and socially responsible… In short, we need to reconcile technological innovation and sustainable innovation.
Some expressions and key words to summarise our convictions and approaches are:
Putting people back at the heart of things
Involve individuals, make them actors of their own future, take their aspirations into account (hence the notions of co-creation, collaborative innovation, collective intelligence, etc.)
Transdisciplinary approaches, lean, design thinking
Taking account of imaginary worlds
"Tech for Good"
The future is built day by day; foresight of the present, pragmatism
Giving meaning to actions

Superuse Studios (founded in 1997) has become a pioneer in the field of sustainable design, renowned nationally and internationally for its innovative design approach as well as for providing 'open source' methods and tools to the design community.
Superuse Studios researches, designs, builds innovative products, interiors and buildings and develops strategies for smart urban transformations, with the aim to make effective use of frequently wasted resources and energy.
Run by engineers all specialists in their own fields; interventions, design, architecture, urbanism and research, they team up in different combinations to match a projects needs. This is what makes their design approach flexible and easy to apply at different scales and to concepts such as social design, urban farming, the circular and the blue economy.
We share the same approach with our partner Superuse Studios while having complementing skills.
a perfect fit with our skills in Systemic Thinking and Design, as well as it's experience in Control Systems (the math applied to analyse and simulate multi-parameter processes) and the modelling of complex systems.
"With our tools and methods we aim to transform our current society into a more sustainable one, and make more effective use of resources, energy and manpower."
Looking at a building, neighborhood, city or region as a system, we can see how much resource, energy and manpower flows in and out of the system. And most comes out of it as 'waste'. By connecting parts of the system we can make effective use of these waste flows. These connections are what Superuse Studios call 'CYCLIFIERS'. They drive supply and demand and are not only sustainable solutions but offer business opportunities too.