A mechanical engineer specialised in control systems with an Executive MBA HEC (Paris) and over 20 years experience in industry, management and entrepreneurship, Camila Amaya-Castro has developed her expertise on Systemic Innovation since 2014.
Her fields of expertise include:
Consulting and training
Individual support to business leaders
She offers a Global Vision and hands-on experience on sustainable innovation, and the challenges related to complexity and ecology, up to date with our current planetary challenges of finite resources and transformation.
Her fields of action cover:
A broad support service through constructive collaboration based on an approach that is deeply systemic and ethical
Delivering services both in France and abroad, in either English, French, Spanish or Dutch.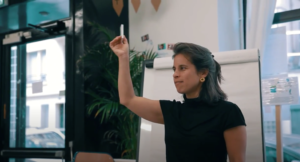 Systemic Innovation
Innovation strategies adapted to a changing world
As organisations today are struggling with increasing uncertainty caused by factors they don't control, many seek to ensure continuity in a sustainable way. We help such organisations go a step further in innovation, more 'deep' and systemic. To help them become more comfortable with uncertainty (covid-19, climate change, etc.) to develop new opportunities and ensure their organisation's future.
Our offer:
We support companies to better understand the complexity of their current challenges. We explore the consequences of this complexity for the organisation and its relationships within the industry and among the stakeholders. By analysing and reviewing your company's vision and strategy, we offer support in its development and implementation through innovation.
Benefits for organisations and companies:
Improved organisational agility
Improved coherence of your organisation's actions with its ambitions
New product opportunities, new jobs
A more sustainable value chain
Improved well-being among employees and with partners and other stakeholders
Improved understanding and use of local resources, local knowledge, local markets
For who?
Accessible to all, we work with decision makers of organisations, with startups and with leaders of SMEs and mid-cap companies, as well as with consultants, coaches and facilitators. Generally, we work with leaders motivated by action. 
SME: How to secure the future of your company? Your ambition is to adopt a sustainable strategy in line with your values and ambitions in an increasingly complex environment 
Startup:  You have developed an innovative product/value chain and you know that your success will not depend on today's trends, but on what will emerge tomorrow. How to navigate in these conditions? What paths to choose?
Larger corporations and organisations: You are familiar with various tools and methods related to collective intelligence, but trends are changing rapidly and new challenges continue to emerge. We know the challenges of large corporations and can help you to take up

the right conditions for more sustainable results. 

Consultant, coach or facilitator: You want to broaden your knowledge and understanding of the systems approach as companies face increasingly complex challenges.
We will help you better understand current complex challenges and explore its consequences and relationships in your industry and with innovation. Then we will look at the organisation's vision and strategy, and support in developing and executing their implementation.
We invite everyone to start with the 1-day Master Class, online or in-person.
(*) the word "deep" refers to "deep ecology" (A. Naess) which is also found in expressions such as "deep listening" or "deep learning" and other uses that imply a non-superficial comprehension and motivation.
« No problem can be solved from the same consciousness that created it » – Albert Einstein
Discover the Systemic Innovation MASTER CLASS
A one-day face-to-face or online master class consisting of :
* group sessions * a personal session * a Q&A platform * 
It can be followed by a more complete personal coaching for the manager or project leader.
« Such encounters generate a great depth of reflection and reasoning … » (feedback from our Master Class)

Why in this period of pandemic turbulence our master class is more relevant than ever?
The offer Systemic Innovation
« Our passion is to work with business and other organisations on the emergence of new solutions and achieve beyond what could have been imagined at the start » (Camila Amaya-Castro, 2017)
Our strength lies in our threefold experience in strategy, transmission and operations. It is in the diversity and breadth of our offering that we see how to make the potential of your innovations a reality.